The Travis Scott Cheeseburger
I compare the similarities of the Travis Scott and McDonald's franchises, and break my boycott of the arches to review his cheeseburger.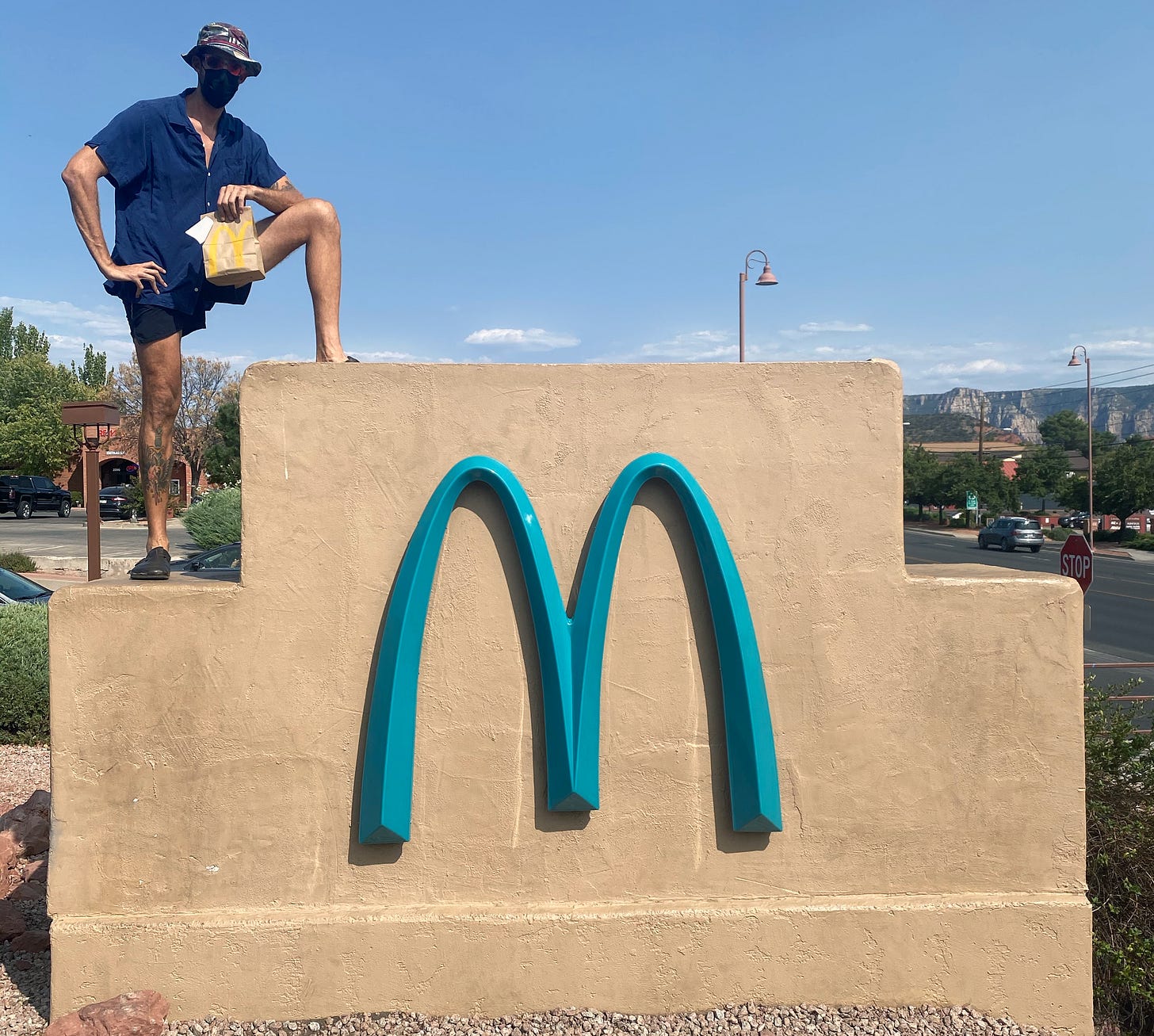 A lot of things happened in the last couple of weeks. I turned 40, I took myself on a vacation to Sedona, Arizona for one full day, and McDonald's, my least favorite restaurant in the world, began selling a cheeseburger in collaboration with rapper Travis Scott. As I embark on the next chapter of my life, it's time I started running towards, instead of away from, three of the things I avoid the most: McDonald's, Travis Scott, and collaborations.
McDonald's started out with pure ingredients and intentions, but they were eventually usurped and stripped for parts, shifting from yummy cheeseburgers to world domination. Money and power became their entire focus, the food itself got worse, and they stopped cooking the French Fries in beef tallow. Thanks to billions and billions spent on marketing, I don't consider their product to be food anymore, just merchandise thats technically (but not easily) digestible. It makes sense that out of all the celebrities in the world, McDonald's would collaborate with Travis Scott, a person who makes music that's technically listenable, for people whose main goal in life is to buy merchandise.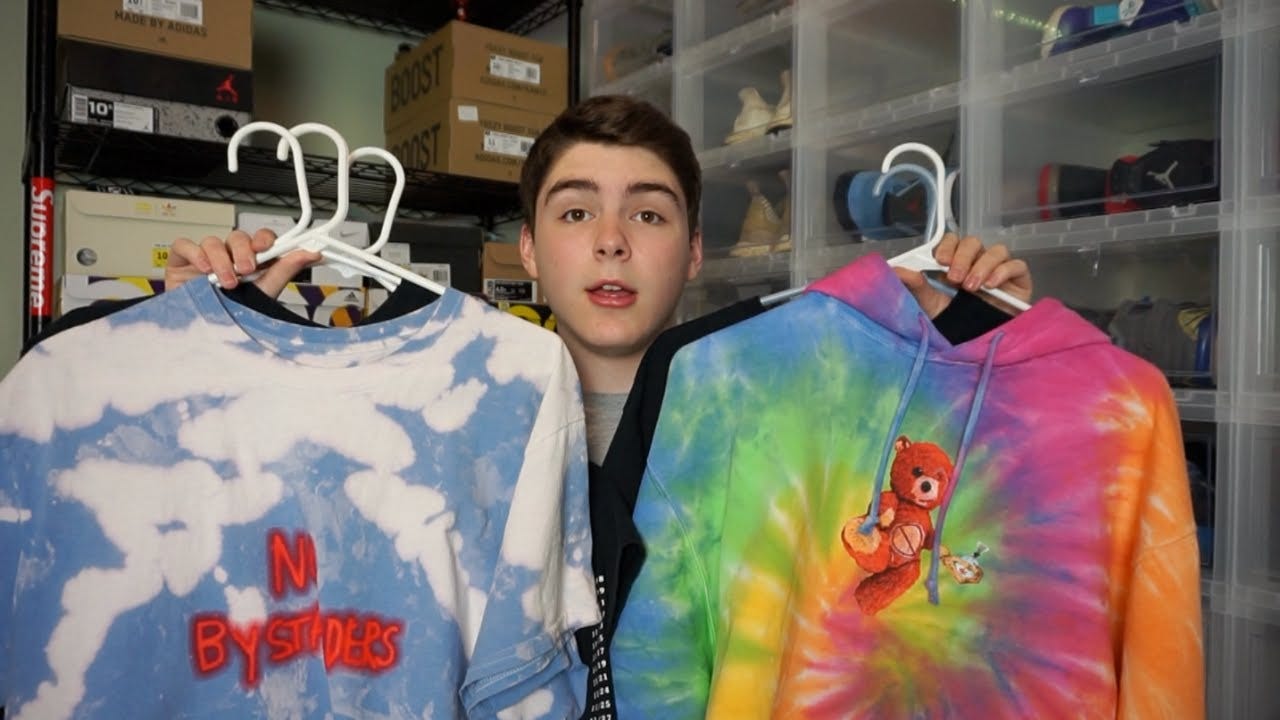 Travis is probably not a bad person at heart, but he's stolen almost every aspect of his persona. He's shamelessly taken bits and pieces, or entire identities, and resold them to fans who don't know to care, or don't care to know. He's been accused of and sued for stealing beats, melodies, entire songs, artwork, and even his live show stage design. His nickname La Flame bears a striking resemblance to Gucci Mane's La Flare, and his iconic autotuned ad lib Straight Up! was pinched in plain sight from rapper Future. That phrase, Straight up! now appears on McDonalds' ad copy, just before letting you know that it's better to order the combo meal instead of just the burger, because the addition of fries and a Sprite slaps.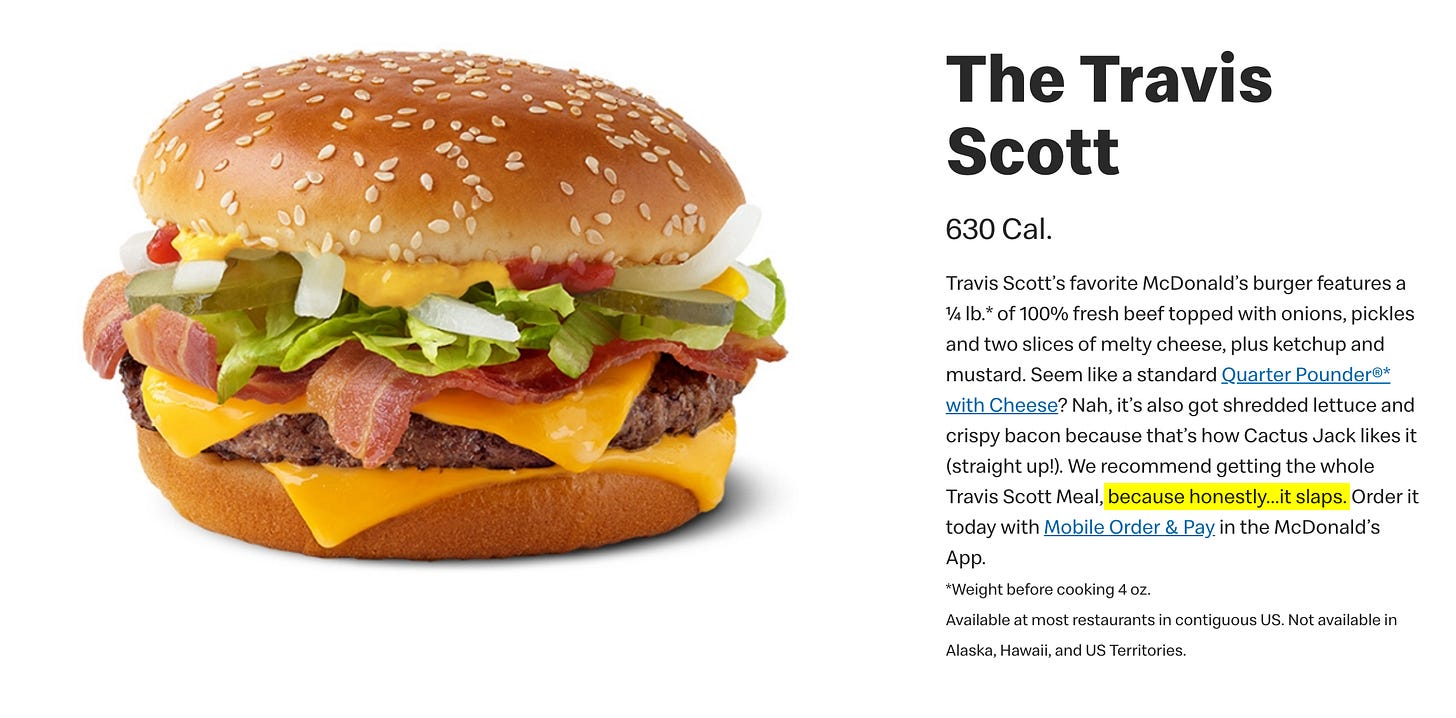 One of the main factors of Travis' success is his on-stage energy. Travis believes that as long as he's high-key at the night show, haters like myself will not be able to fault him as an artist entirely, and he's right. 2018's Sicko Mode, arguably as much of a Drake song as his own, is Travis' only Billboard number one, yet his live shows and festivals draw in as many fans if not more than Drake, who's had over 200 songs on the charts. Before the quarantine hit, we began moving toward an experience economy, spending more of our disposable income on concerts instead of records, memories instead of tangible goods, and the merchandise to commemorate these memories. What would any businessman do when these experiences, Travis' hero product, and the industry's last hope to actually make money, are taken away thanks to social distancing? You collab. In the last couple of years, our human experience has also pivoted, from sicko mode to survival mode, and integrity has fallen farther down our list of priorities. That being said, I felt compelled to eat his cheeseburger.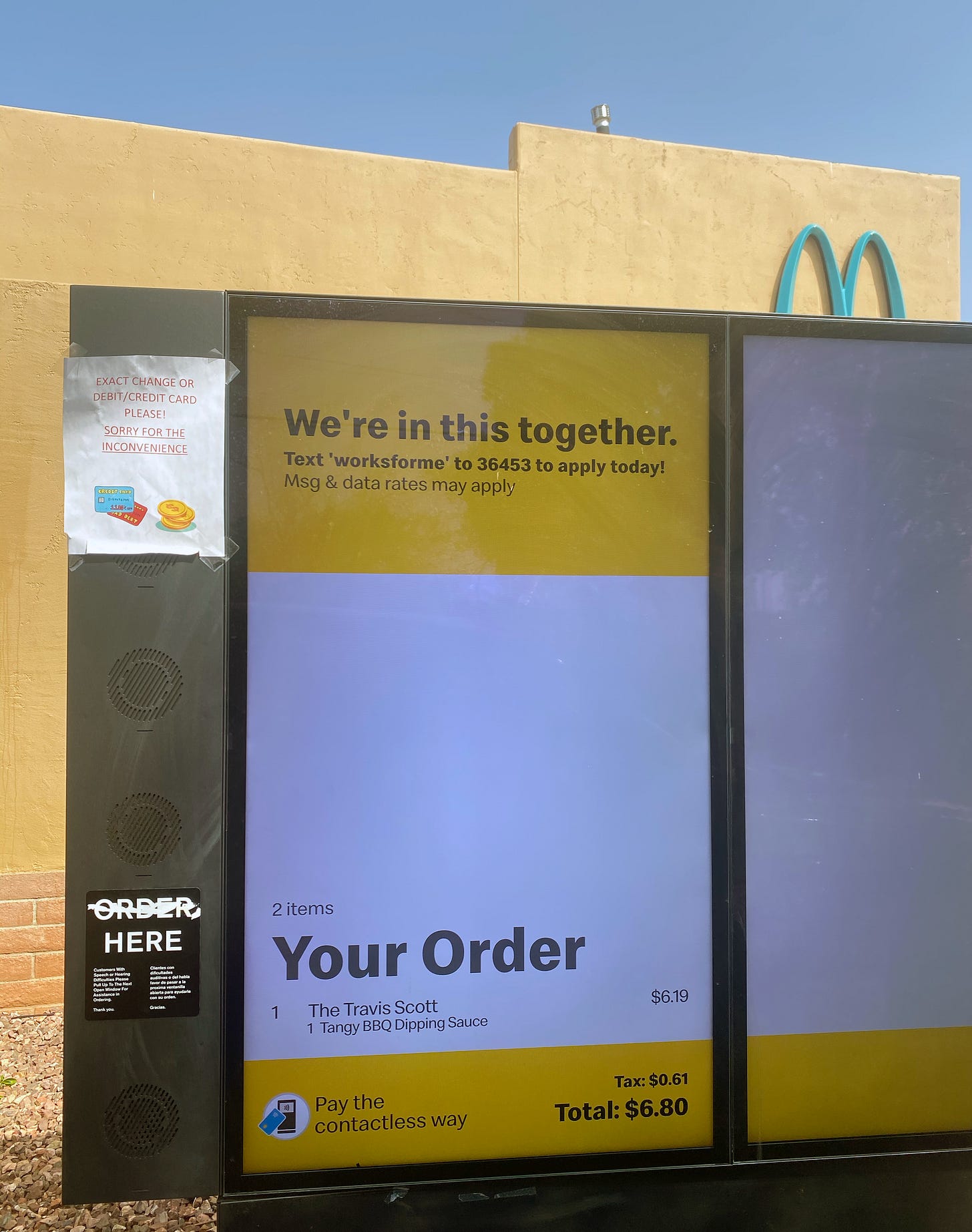 I pulled into the Sedona, Arizona McDonald's drive thru on a 100 degree Thursday afternoon. Aside from the Spanish architecture and turquoise arches, this location is as cursed as any. I gulped, and asked for "o-o-one Travis Scott Burger please." Immediately, a flatscreen displayed my order; 1 The Travis Scott, 1 Tangy BBQ Dipping Sauce, Total $6.80. My single pattied cheeseburger, no fries, no drink, no slapping combo, came out to almost 7 dollars. In my opinion, the gold standard for any and all burgers is In-N-Out. Whenever I'm eating a $9 backyard smash burger, or a $24 aged wagyu onion jam thing, I ask myself, is this more enjoyable than a Double-Double Animal Style? The answer is rarely a yes, but when it is, thats a burger I'll think of on my death bed. In-N-Out's Double-Double costs half the price of The Travis Scott Burger. (Editors note, I have learned that the Sedona location of McDonald's seems to have incorrectly charged me for a meal instead of a single cheeseburger so this paragraph goes from a 10 to a 6.5)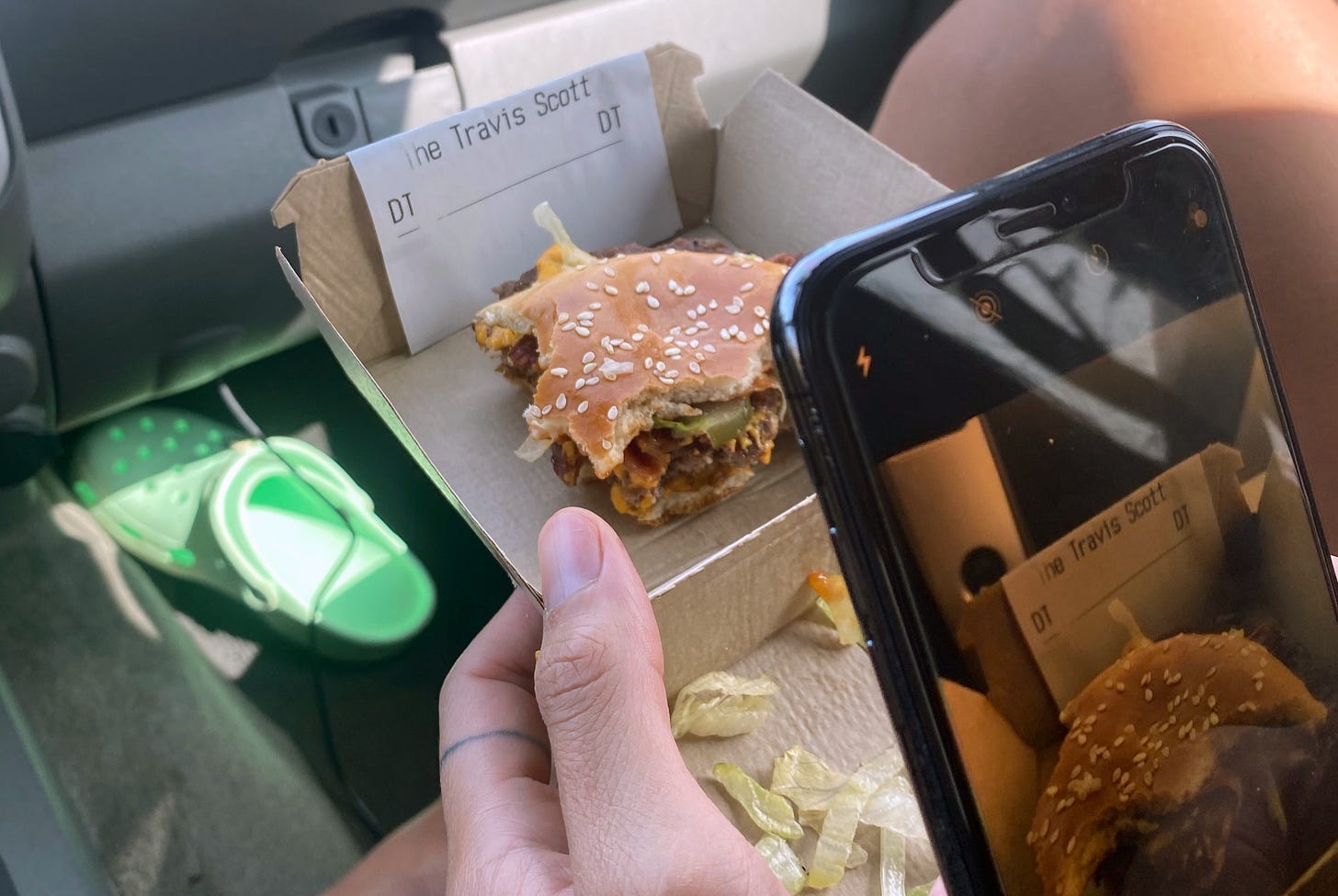 There is obviously no scenario in which this tastes as good as anything from In-N-Out, but it was better than I expected. The Thick Cut Applewood Smoked Bacon sitting on top of Travis' 100% Beef Patty was pleasantly crisp. Overcooked, but not to the point of blackening. The squeeze from McDonalds' imperishable bun contrasted nicely against the brittle snap of bacon. I really don't want to know where McDonald's gets their lettuce from, but I imagine it's harvested in a greenhouse bunker thousands of feet below the Denver Airport, and hand shredded by inmates. The Cactus Man was thinking outside the bun when he sat up out of his Herman Miller Gaming Chair on the 3pm Astroworld X McDonald's Zoom and declared "two slices of cheese tho" because it's honestly a nice touch. The squares of pasteurized processed American cheese appear both on top of, and beneath the quarter pound patty, which is the only way melting might occur from the room temperature beef shingle. That patty, somehow more dense than a xanthan gummed Impossible burger, tasted as fresh as I expected; like it came from schizophrenic cattle, ground alive sometime in late 2016.
I like that my Travis had independent squirts of Ketchup and Mustard in addition to adding his tangy BBQ Dipping Sauce, because if you mixed them all into one super spread, any and all subtleties would be lost. The true saving grace of this burger is the snap of raw onion, and the acrid blast of McDonalds' pickle. I wasn't expecting to sink my teeth into that pickle when I ate Travis' burger. He honestly doesn't seem like the type. The unmistakable flavor of that fermented, sugarless pickle is the sole reason why McDonalds' limp-dick 79 cent hamburgers are so oddly stunning. Despite the fact that they appear to be assembled, wrapped in paper, and then mashed in a Oaxacan tortilla press before service, theres just something about them that shocks me to my core.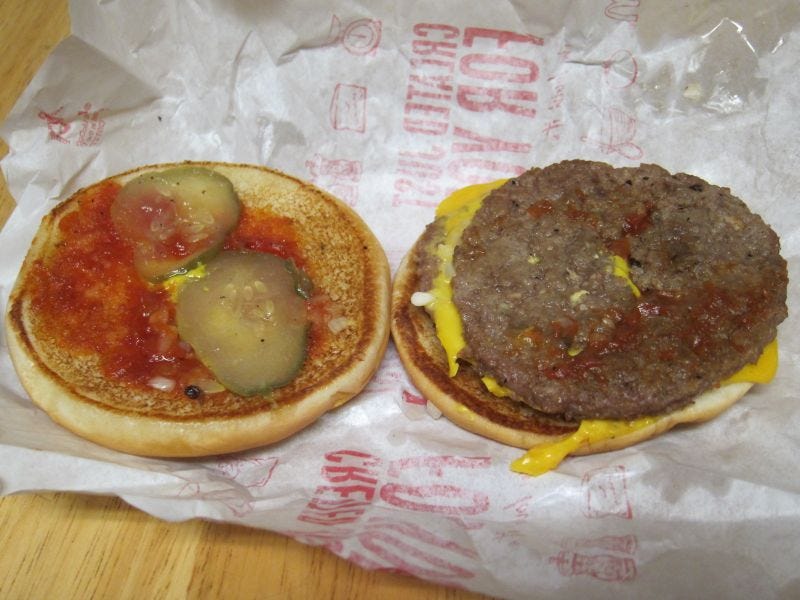 Aside from it being a dystopian warning sign, the only true disappointment in this collaboration is the bun. It's golden brown sheen appears to have come from an airbrush gun more so than a perfectly calibrated transfer of heat. Each sesame seed looked to be individually placed by machine, or more likely a child laborer outfitted with tweezers and a jewelers loupe. Time lapse video of McDonalds' Big Mac refusing to degrade over decades played in my mind as I bit in. The nervous crumb structure pulled apart in my teeth like a large clump of hair from a stressed out teen. I learned from watching Mind Of A Chef that animals taste better if they're bred and slaughtered humanely. If that same logic is applied to all living things, then may god have mercy on McDonald's for whatever they did to this yeast. My bun was better suited to sop up a chemical spill than tangy BBQ sauce. Like the protein plate on a Delta flight, or a Travis Scott concert on Fortnite, it simply does not live up to its presentation.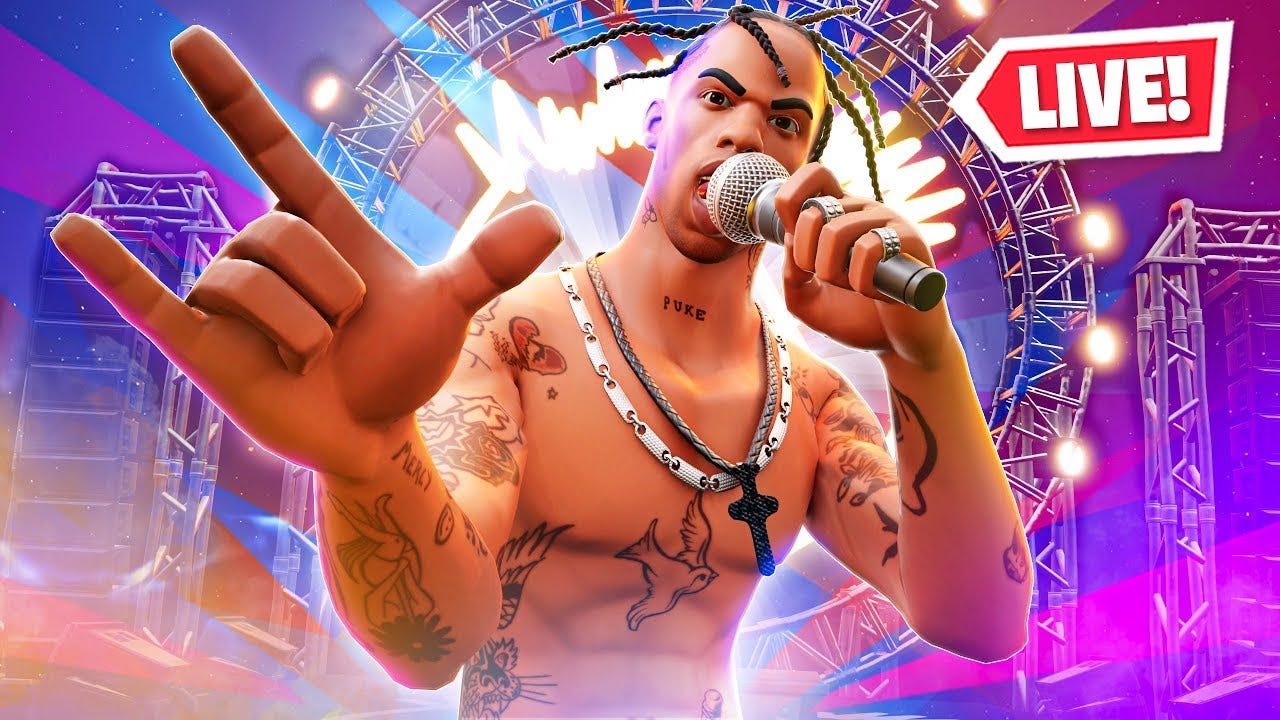 Travis is a successful rapper because he paid attention to the underhanded side of his business, and McDonalds is a successful restaurant for the same reasons. They are the musical and culinary equivalent of buying a Mona Lisa print at Ikea. Their stocks have split so many times that they can't remember the point where the flame was blown out. I hope Ronald and Travis are haunted in their sleep for this collaboration. I'm reinstating my McDonald's boycott, and will continue to listen to the music of Future instead of Travis Scott.