What Is Traditional Cooking?
After a trip to Felix Trattoria, I test how far those Italian techniques will take my American traditions, and I try to distill why preserving those traditions might be so important.
My life partner took me out to a fancy dinner date this week at one of Los Angeles' most beloved restaurants, Felix. It's a traditional Italian trattoria on Venice Beach's Abbot Kinney, the last place in Los Angeles where adults still ride Bird scooters. They did a wonderful job flipping their parking lot into an alfresco dining room, lining the asphalt with all-weather carpeting, and dotting any unoccupied space with an olive tree or heat lamp, the way Felix's chef and owner, Evan Funke might plop a wet mound of mozzarella on his pizza dough before it hits the fire. Funke has gained notoriety and success over the last few years, rightfully so, for making pasta like the old Nonnas do in some alleyway that Eric Wareheim and Aziz might get stuck in on Netflix, or a perfect old barn where hot people drink homemade wine and have no jobs. In Felix's glass-walled chamber, Evan can be seen rolling out pasta dough by hand with a long wooden dowel called a Mattarello. He takes these deceptively simple dishes like cacio e pepe and elevates them to great heights with his fusion of old-world technique and California confidence. By using the best ingredients possible and letting them speak for themselves, the Funk-man is able to create something that transcends the sum of its parts through alchimia. He's doing things the old way, the more time-consuming way, the path of most resistance because the end product simply tastes better. You feel more alive when creating technique-driven dishes like his, dishes that truly need all of your senses and attention to execute, and if executed correctly, will take all of your senses to properly enjoy them.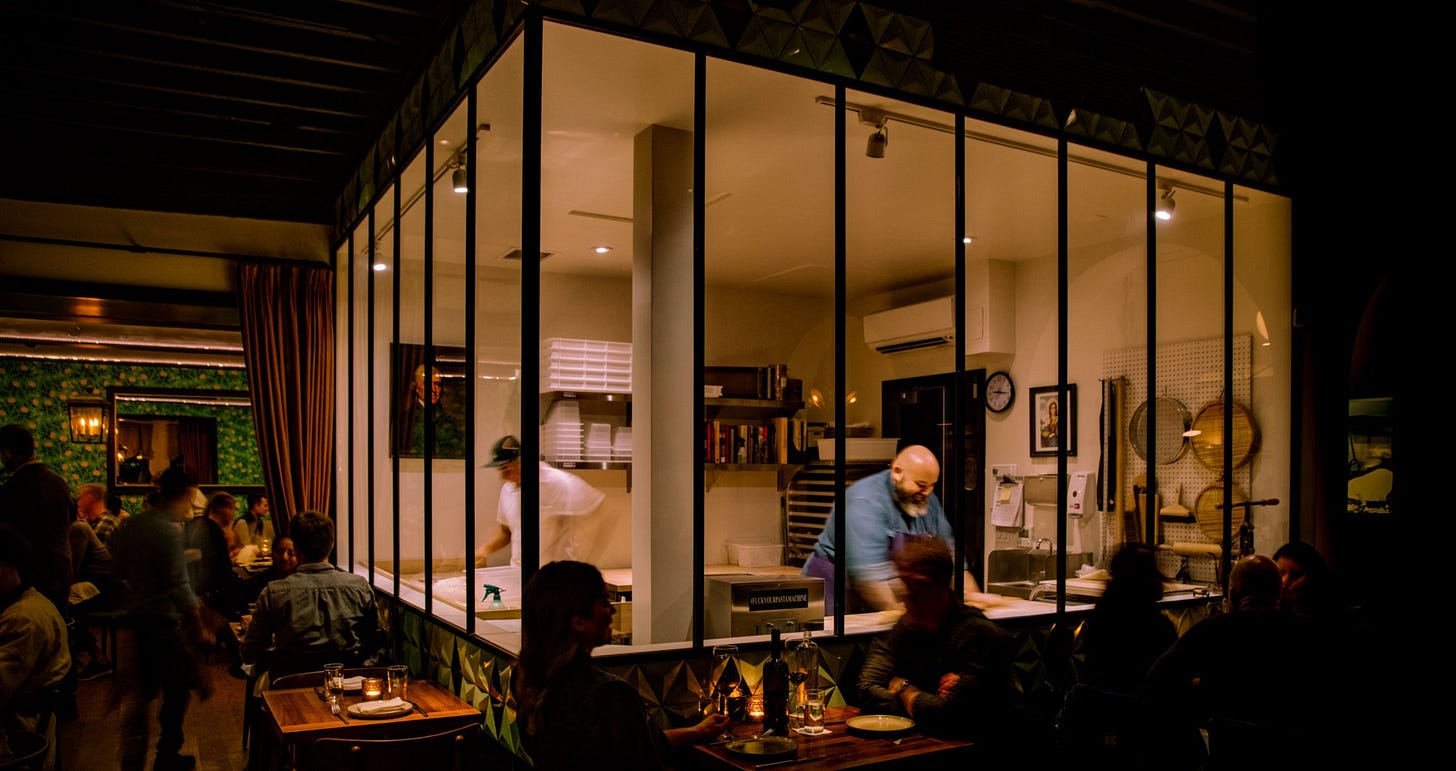 Evan and many other chefs could be categorized as traditionalists. One part if it ain't broke don't fix it, one part we have reached perfection so no need to improve, and one part (the most important) if we don't preserve these methods and pass them down to future generations, they will die. I learned that these things are important by watching documentaries where upstanding citizens who happen to be nearing death, make tortillas, or smoked brisket while classical music plays until I ultimately start crying. Jiro Dreams of Sushi showed us why their traditions are so important, and a glimpse at the collateral damage it can cause when potentially pushed too far. Truly exceptional food is still alive when it hits your tongue, and that exchange of energy and spirit from one person to another through food is the most important thing to consider when cooking. If umami is the 5th basic taste along with sweet, sour, bitter, and saltiness, then I'd like to think of this exchange as the 6th and most memorable taste, and a tradition that needs to be preserved and passed down to future generations more than any other. Protecting this fusion between two people is more than enough reason to do the extra work.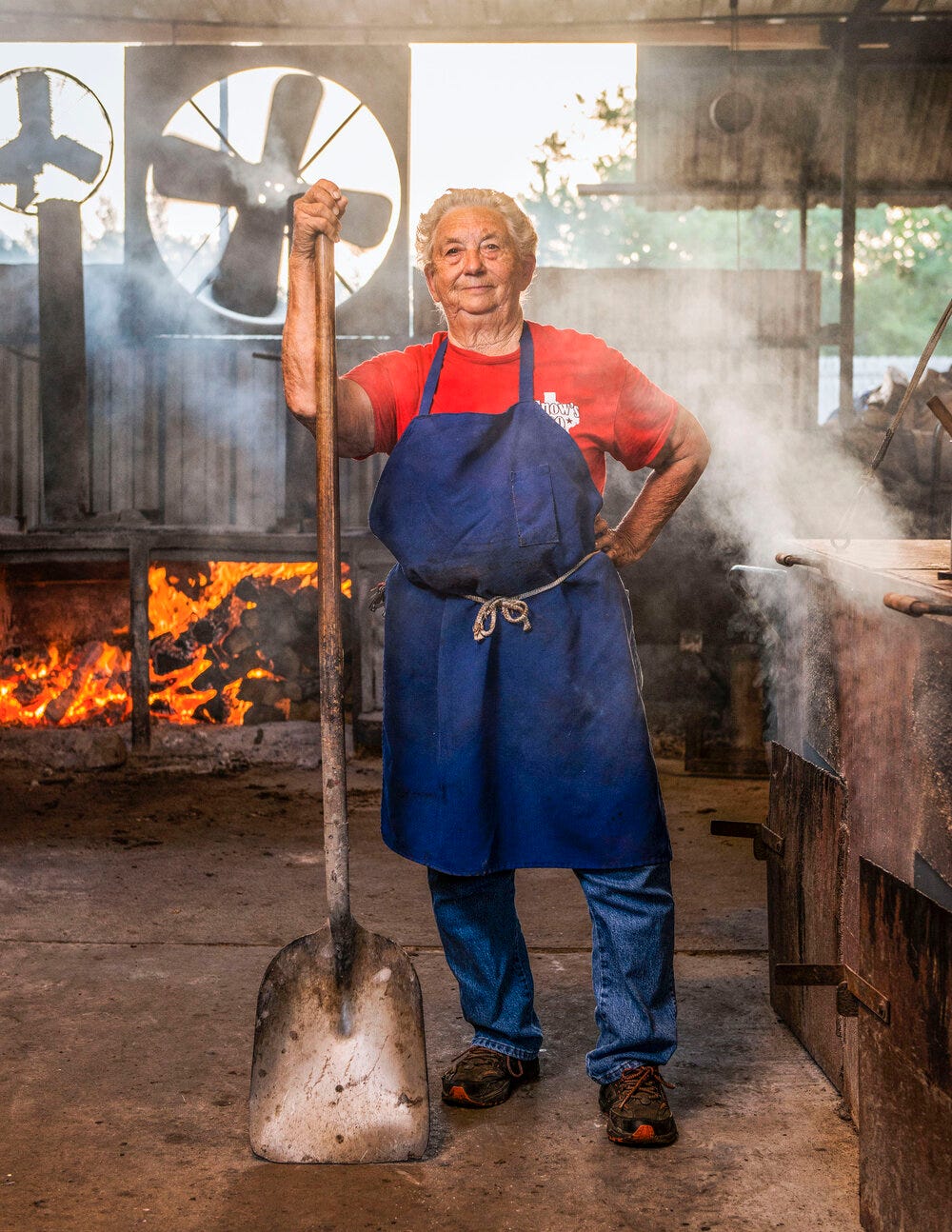 My LP's Mother is a fantastic cook. She specializes in the traditional methods of Vietnamese cooking that were passed down to her by her elders. She makes extremely straightforward but intensely delicious bowls of pho, crab cakes, flan, and pitchers of lemongrass tea. She loves eating all kinds of food from lasagna to coffee cake, but one thing she hates is fusion cuisine. It's not a term we hear about so much nowadays, but in her heyday, it was definitely a thing. Watch any restaurant scene in American Psycho for a spot-on depiction of the early stages of fusion as a pejorative. Nowadays, every restaurant and home cook in America is producing some version of fusion cuisine. It's so prevalent that we don't even notice it anymore. Luckily the cream rises to the top, and some bonds stand the test of time, like Wolfgang's BBQ chicken pizza. Some of the less thought-out amalgamations like the cursed Ramen Burger sprout up for a 6-month run, thankfully never to be seen again.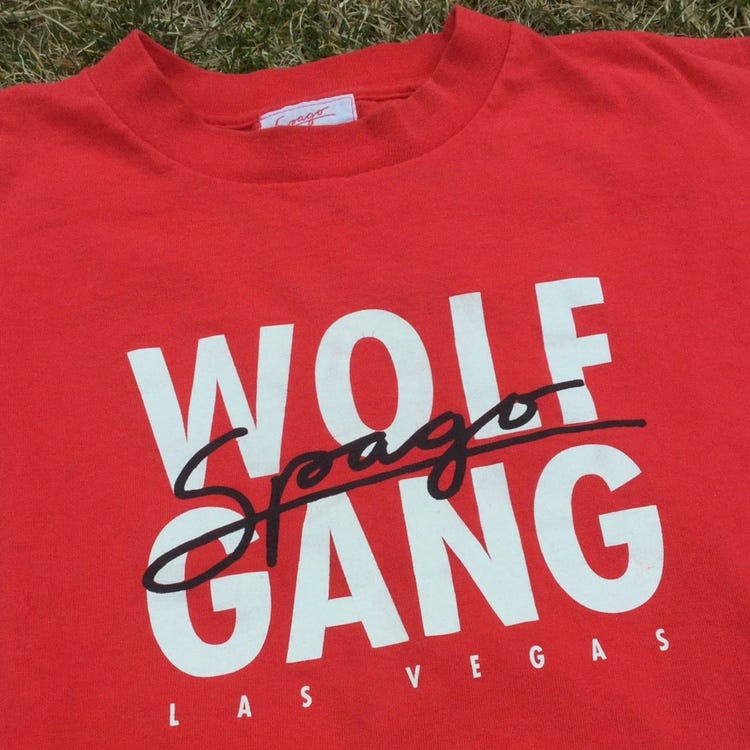 So now in 2020, you stand out if you're not trying to do something new and different. Cooking things the old way becomes a spectacle for those craving something new. Most people eventually become set in their ways as they get older. Sometimes its because they're romanticizing a time period that they personally find to be ideal (steampunk) and sometimes people just get tired. It burns a lot of calories to maintain a mind that's willing to be changed. Evan Funke and I are both around the same age, and both grew up in Southern California during the 80s and 90s. If Evan is anything like me, then there is a strong chance that the first time he ever ate pasta was from a blue cardboard box... Kraft, not Barilla. So what would happen if I took the cherished traditions that Evan absorbed by spending his summers in Italy with the Nonnas, and combined them with Kraft Macaroni and Cheese, our personal pasta tradition? Let us find out below. Obviously, I'm not able to achieve the pasta magnificence that Evan can, but luckily for us, I have YouTube. Evan has made many appearances on tape, one of them being a segment from the Hallmark Channel's morning show where Evan prepares his cacio e pepe to a room full of awful hosts. Evan is a great sport though, asking Hallmark's laypeople to "think of this dish like macaroni and cheese" because it's basically just that, but with a few thousand turns of his bronze pepper grinder. So I'll be fusing his invaluable techniques, some ultra-high-quality ingredients, and a packet of powdered cheese and milk solids for you below.
First things first, I'll be using the far superior Annie's brand of Macaroni & Cheese instead of Kraft because god only knows what they put in there. It's still an ultra-cheddar neon orange product, so no essence of the original should be lost.
Boil 6 cups of filtered water in a medium pot. If you don't have a filter at home, just use Acqua Panna still.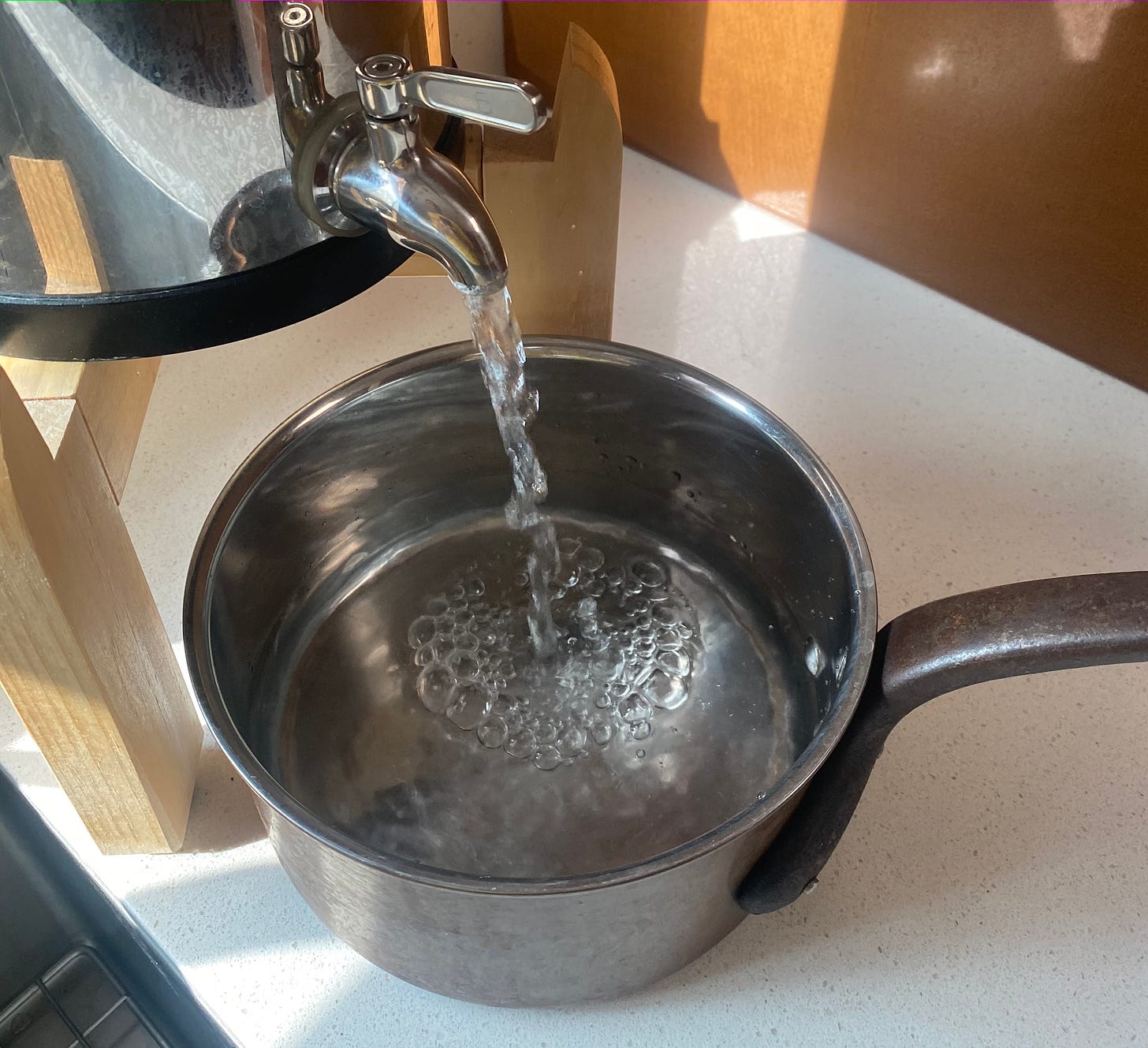 I will be replacing Annie's junkyard elbows with an imported Italian dry pasta, so I took the liberty of weighing it out for you. We have to measure by weight and not volume because every shape and size of pasta will fill a measuring cup differently. There are 134 grams of pasta in Annie's box, so measure out 134 grams of whatever expensive dry pasta you'll be using. I chose capunti which is a short oval-shaped pasta resembling an opened pea pod. Annie's elbows will likely never be used, so take a moment to enjoy the process of slowly pouring them into your trash can.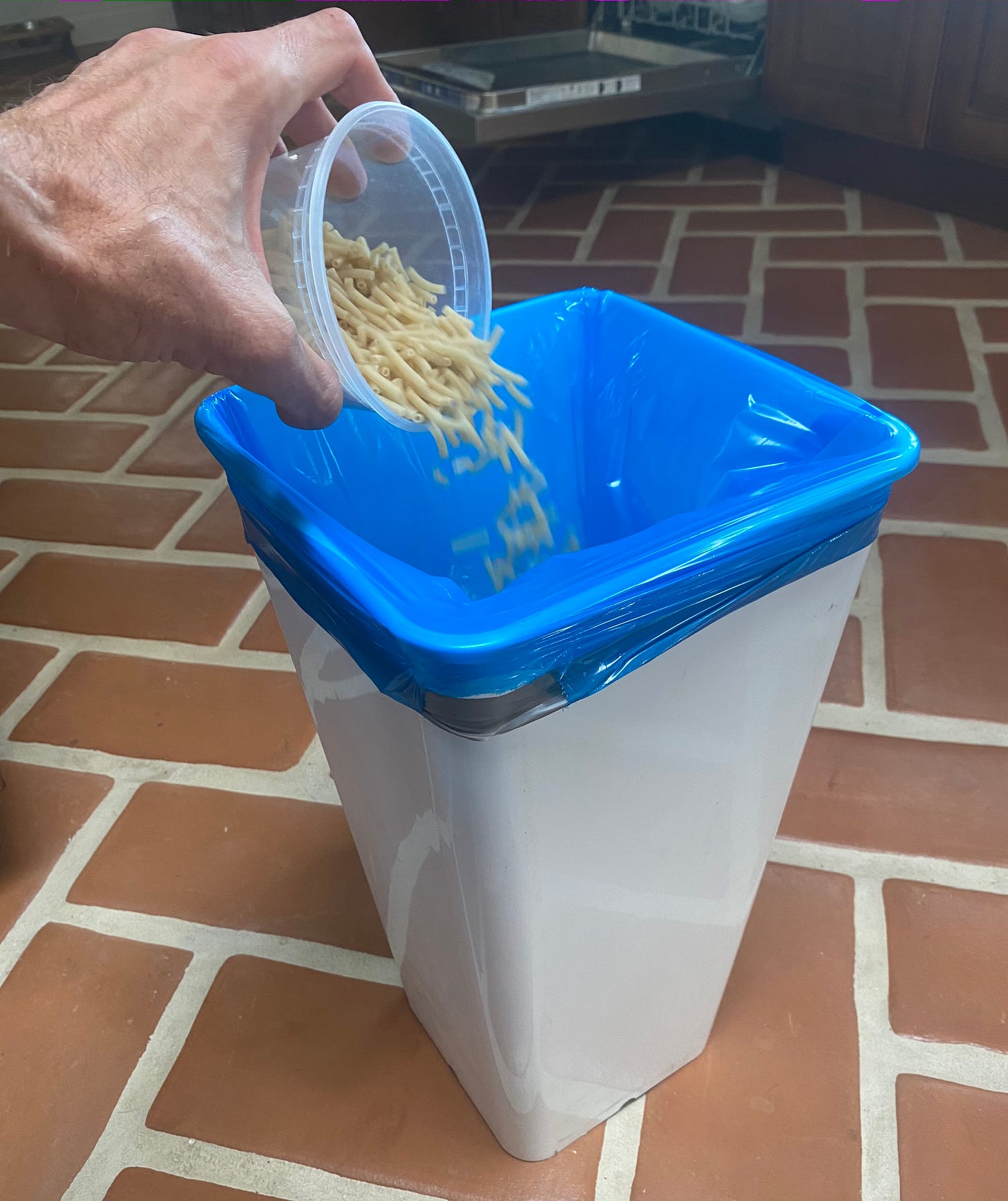 Once the water comes to a boil, add a few pinches of salt and dump in your pasta. We don't need this to taste like the sea how they teach you on TV because the packet of cheese powder we'll be adding later is sufficiently salty. Cook the pasta for as long as it takes, If the packaging doesn't tell you how many minutes it takes to cook, then you've probably found a good one.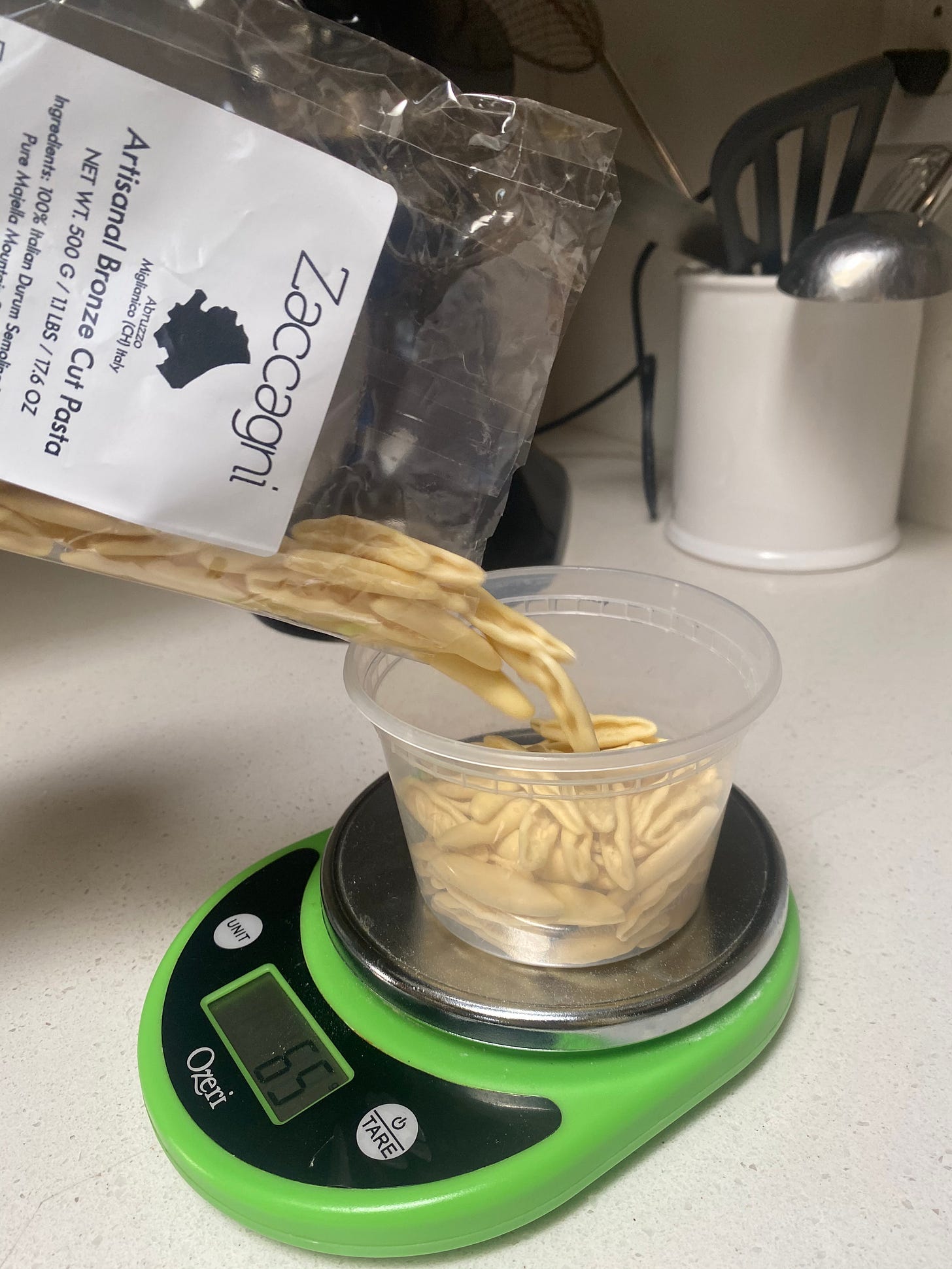 Once you feel like you're 2 minutes out from the pasta being al dente, get a pan on medium-high heat, and add two nice nubs of butter. I'm using Le Burre Bordier from Brittany because it's the best I can find. I know this is not traditional for a cacio e pepe, but Funke did it on TV, and Annie's box told me it would really turn things up.
Once the butter melts, crack a few dozen turns on your pepper grinder. Bloom and perfume the crushed pepper in the melted butter for a minute or two, make sure it doesn't brown or burn.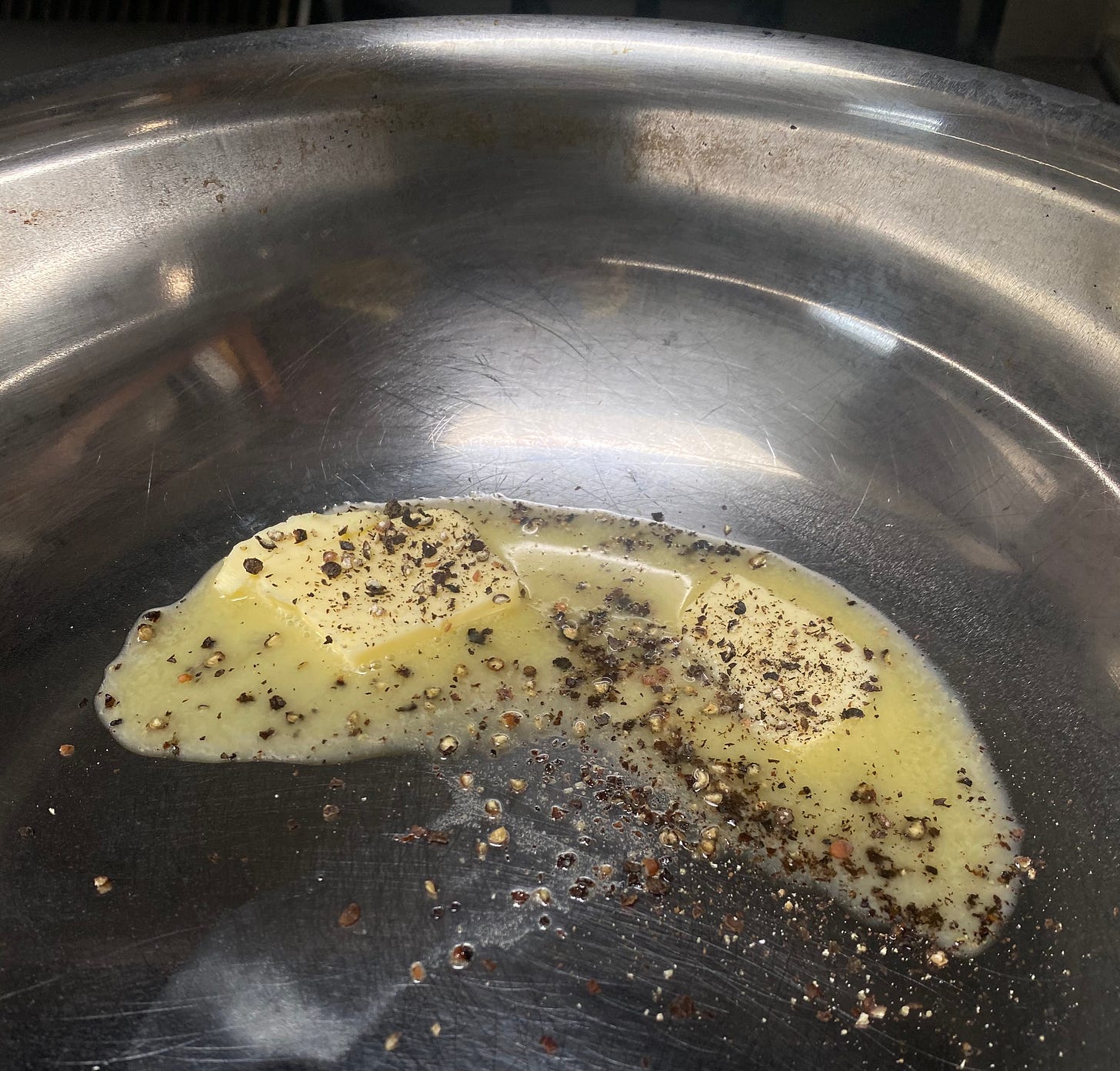 Now grab a spider or slotted spoon and ladle in all your pasta from the pot straight into the pan. It doesn't matter if some pasta water comes along for the ride, it will be our friend in a moment.
Toss everything together for a couple of minutes, adding a few ladles of pasta water until everything has a nice healthy sheen to it.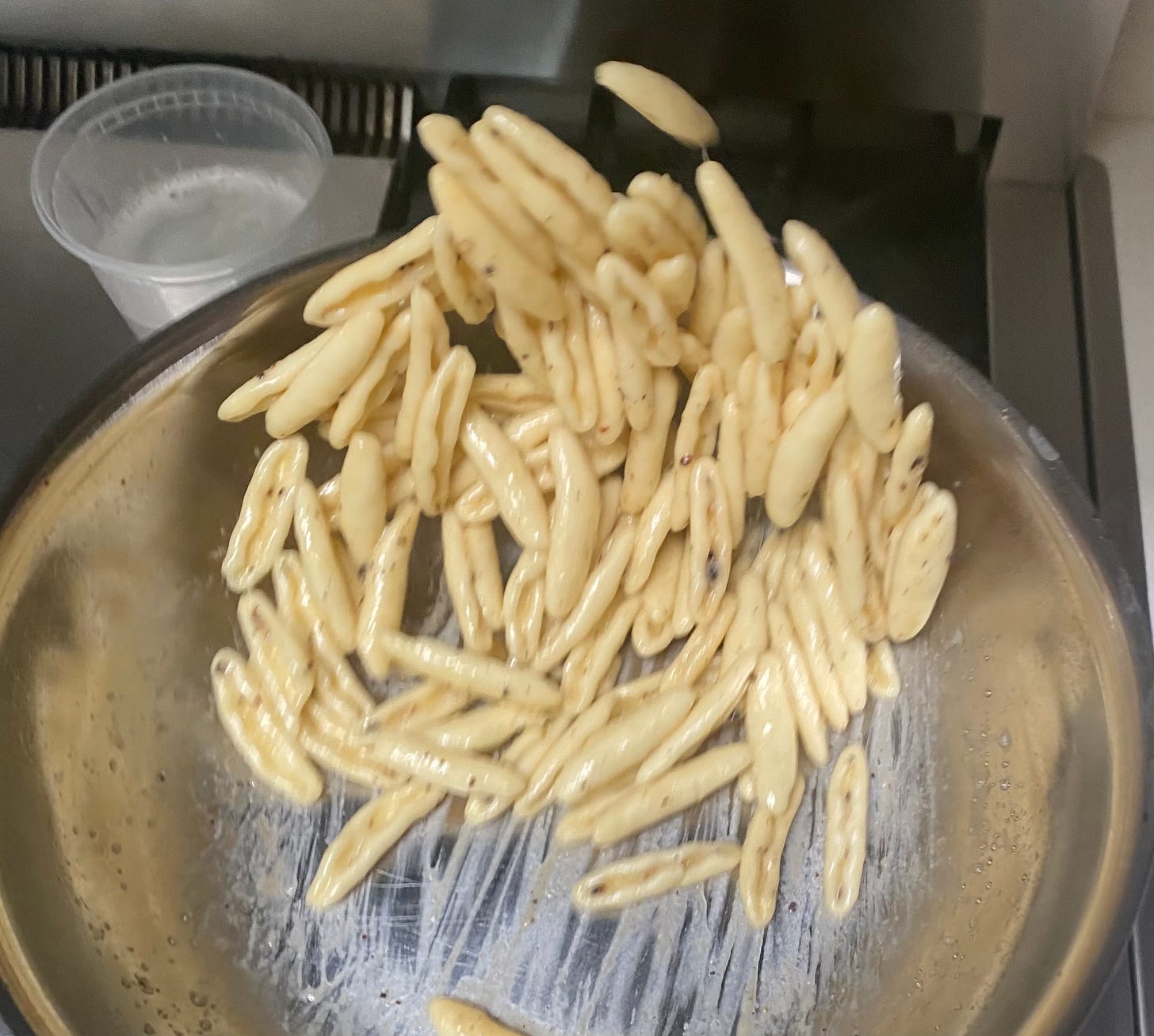 Now turn the heat off your pan and add 1/4 cup of whole milk or cream, and the contents of your cheese packet. Stir everything vigorously for a minute or two to make sure every piece of pasta is evenly coated. If your capunti is looking a bit parched, don't be afraid to add more pasta water to keep things nice and wet.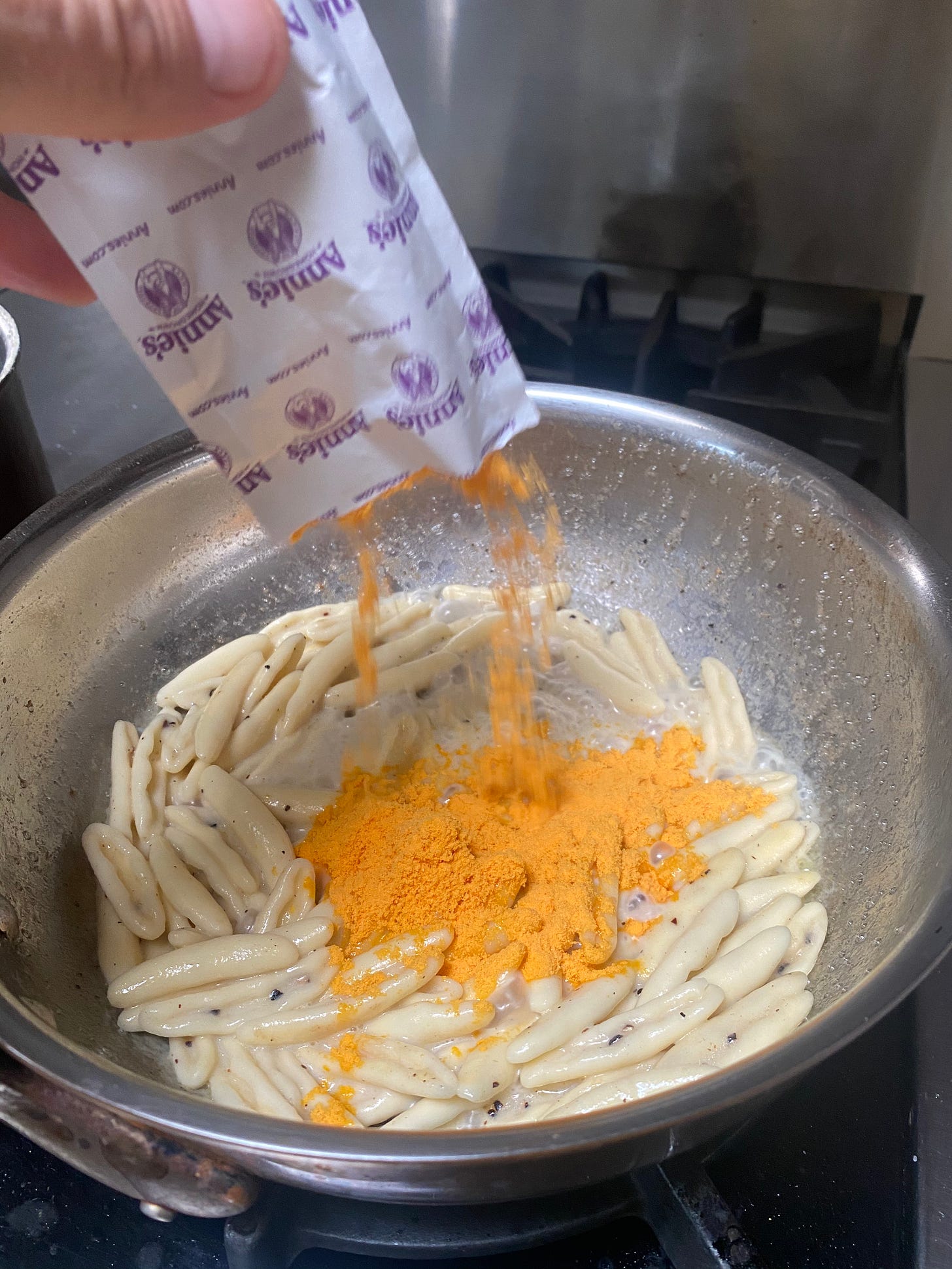 Before we plate up, make sure to always taste and adjust for seasoning. JK, it's already too salty.
Spoon your Technicolore pea pod pasta into a bowl, and microplane some 18 month Parmigiano Reggiano on top.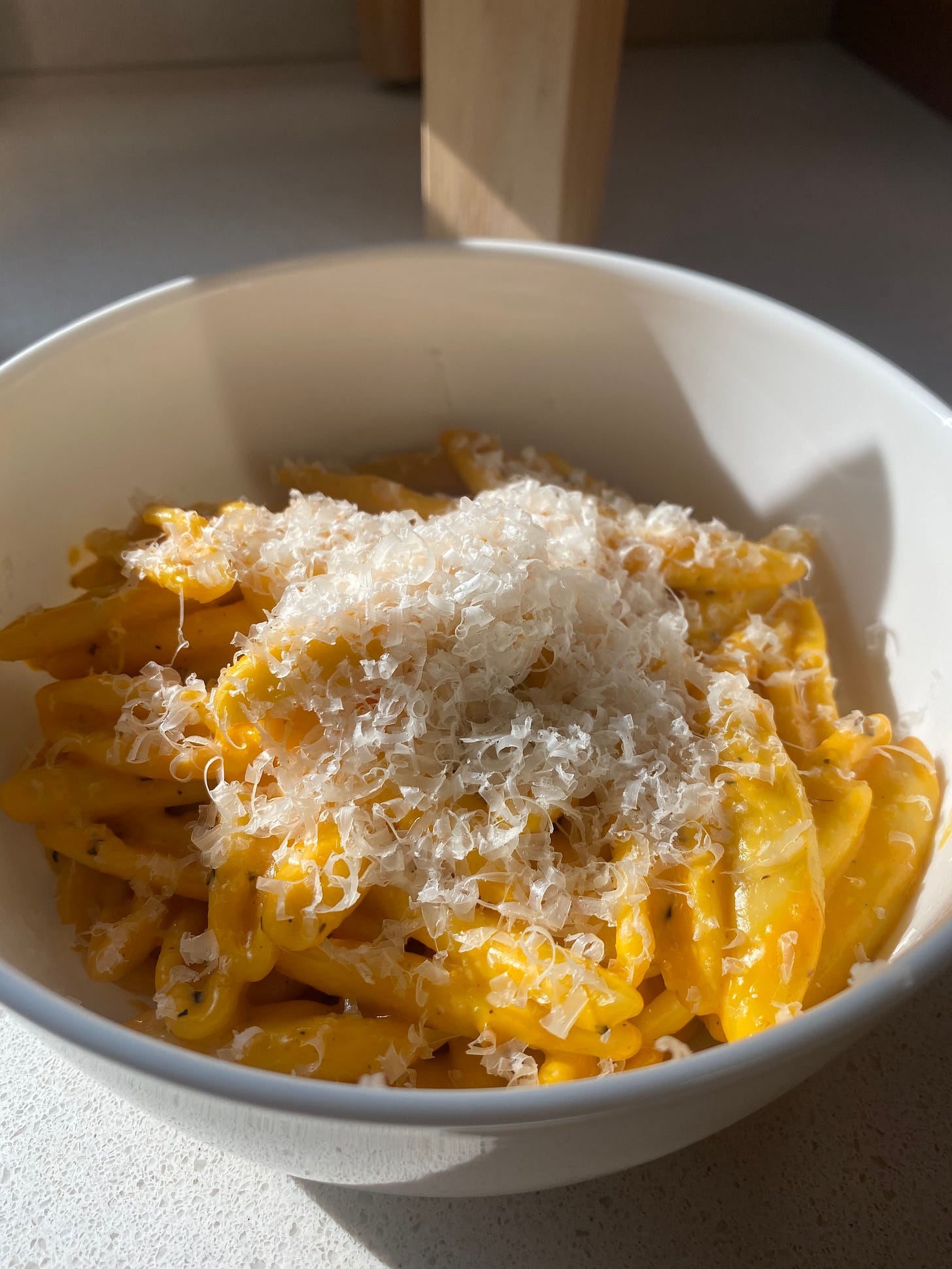 We lust after that perfect chew from high-quality pasta, it's what makes us pay $24 for $3 worth of ingredients at a restaurant like Felix, but the neon-orange cheddar is so sharp and unnatural that the perfect chew becomes a punishment. I shouldn't have thrown away those thin-walled elbows, because they might be the only reason why boxed Mac N' Cheese became that perfect dopamine hit. The flavor is so overwhelming compared a pasta from scratch, that it needs a vessel that will immediately disintegrate upon entering your mouth. Think of it as the difference between cocaine and crack, two different delivery methods were needed for two different highs. Kraft's elbows are the exact opposite of toothsome, so much so that one could argue that they aren't pasta at all. If you ask any Nonna, the fusion of macaroni and powdered cheddar should have never happened, but just like peanut butter and pickles, I'm glad it did.